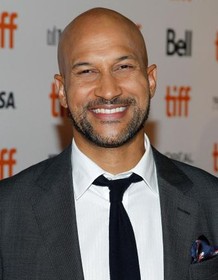 Keegan-Michael Key
Highest Rated: 100% Teacher of the Year (2014)
Lowest Rated: Not Available
Birthday: Mar 22, 1971
Birthplace: Southfield, Michigan, USA
Though many comedy fans were first introduced to Keegan-Michael Key as a cast member on "MADtv" (Fox, 1995-2016), he truly became a household name thanks to his sketch comedy series "Key and Peele" (Comedy Central, 2012-15). Born in Southfield, Michigan in 1971 to an African American father and white mother, Key was adopted by parents who, by chance, reflected the same racial makeup. Key would later cite the regular "code switching" he engaged in between the two cultures within his family as contributing to his interest in playing different characters. Key eventually earned a bachelor's degree in theater from the University of Detroit Mercy as well as a master's from Pennsylvania State University. He was a mainstage cast member at Detroit's Second City improv theater before relocating to Chicago to join that city's even more prestigious Second City location. After a few years, he made the move to Los Angeles to pursue a career on screen, where he slowly began to accrue credits with appearances on "ER" (NBC, 1994-2009) and in the film "Uncle Nino" (2002). In 2004, Key was cast on the sketch comedy series "MADtv" along with another up-and-coming comedy performer named Jordan Peele. Key played a number of beloved recurring characters on the show such as Eugene Struthers and Coach Hines, and when he left the show in 2009, he and castmate Peele opted to pitch their own series to Comedy Central. "Key and Peele" proved both a critical and commercial hit, with Key's regular characters like Luther the Anger Translator becoming pop culture sensations. Key also appeared in recurring roles on "Fargo" (FX, 2014-) and "Parks and Recreation" (NBC, 2009-2015) at this time, in addition to co-starring with Lennon Parham and Jessica St. Clair on the largely improvised series "Playing House" (USA, 2014-17) and making a small but hilariously memorable appearance in the comedy "Let's Be Cops" (2014). When "Key and Peele" wrapped in 2015, he appeared in the feature film "Tomorrowland" (2015) and began providing the voice of American Ranger on the animated series "SuperMansion" (Crackle, 2015- ). The next year, Key re-teamed with Peele for the absurdist comedy film "Keanu" (2016) and honored his roots as an improvisor with the sleeper hit "Don't Think Twice" (2016). Then in 2017, Key began starring on the comedy-drama series "Friends from College" (Netflix, 2017-19). Though the show lasted only two seasons, it was a major critical hit, increasing Key's reputation as not just a gifted comedian but a talented actor. He quickly moved forward, co-starring with Eddie Murphy in "Dolemite is My Name" (2019) as well as with John Cena in the family comedy "Playing with Fire" (2019), as well as reteaming with Peele as a double act in "Toy Story 4."
Photos
Keegan-Michael Key
Key & Peele, Keegan-Michael Key (L), Jordan Peele (R), 'Season 2', 09/26/2012, ©CC
KEANU, from left: Keegan-Michael Key, Jordan Peele, 2016. ph: Steve Dietl/© Warner Bros.
L-R: Keegan-Michael Key, Finley Rose Slater, and John Cena in PLAYING WITH FIRE from Paramount Pictures. Photo Credit: Doane Gregory.
Playing House, Keegan-Michael Key, '37 Weeks', Season 1, Ep. #8, 06/10/2014, ©USA
Playing House, Keegan-Michael Key (L), Jessica St Clair (R), '37 Weeks', Season 1, Ep. #8, 06/10/2014, ©USA
Playing House, Jessica St Clair (L), Keegan-Michael Key (R), 'Let's Have a Baby', Season 1, Ep. #9, 06/17/2014, ©USA
Playing House, Lennon Parham (L), Keegan-Michael Key (R), '37 Weeks', Season 1, Ep. #8, 06/10/2014, ©USA
Playing House, Keegan-Michael Key, 'Spaghetti and Meatballs', Season 1, Ep. #7, 06/03/2014, ©USA
Playing House, Lindsay Sloane (L), Keegan-Michael Key (R), '37 Weeks', Season 1, Ep. #8, 06/10/2014, ©USA
Playing House, Keegan-Michael Key, 'Bugs In Your Eyes', Season 1, Ep. #10, 06/17/2014, ©USA
Fargo, Jordan Peele (L), Keegan-Michael Key (R), 'A Fox, A Rabbit, and A Cabbage', Season 1, Ep. #9, 06/10/2014, ©FX
Fargo, Jordan Peele (L), Keegan-Michael Key (R), 'A Fox, A Rabbit, and A Cabbage', Season 1, Ep. #9, 06/10/2014, ©FX
It's Always Sunny in Philadelphia, Keegan-Michael Key (L), Danny DeVito (R), 'The Gang Goes on Family Fight', Season 10, Ep. #8, 03/04/2015, ©FXX
The Late Late Show With Craig Ferguson, Keegan-Michael Key (L), Craig Ferguson (R), ©CBS
Mad TV, from left: Arden Myrin, Bobby Lee, Keegan-Michael Key, Erica Ash, 'Best of Politics: Special Edition', Season 14, Ep. #4, 10/04/2008, ©FOX
Mad TV, Bobby Lee (L), Keegan-Michael Key (R), 'Best of Politics: Special Edition', Season 14, Ep. #4, 10/04/2008, ©FOX
Mad TV, Keegan-Michael Key (L), Nicole Parker (R), 'Best of Politics: Special Edition', Season 14, Ep. #4, 10/04/2008, ©FOX
Mad TV, Keegan-Michael Key (L), Bobby Lee (R), 'Episode 1401', Season 14, Ep. #1, 09/13/2008, ©FOX
Mad TV, Keegan-Michael Key (L), Bobby Lee (R), 'Episode 1401', Season 14, Ep. #1, 09/13/2008, ©FOX