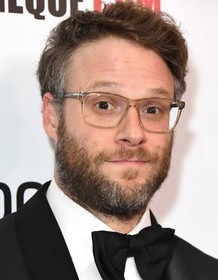 Seth Rogen
Highest Rated: 96% Teenage Mutant Ninja Turtles: Mutant Mayhem (2023)
Lowest Rated: 16% The Watch (2012)
Birthday: Apr 15, 1982
Birthplace: Vancouver, British Columbia, Canada
Unlike many of Hollywood's GQ-esque, A-list types, comedy actor-writer Seth Rogen was instantly embraced by audiences for his common-man appeal. While paying his initial dues working on a variety of TV sitcoms, he fell under the tutelage of producer-writer-director Judd Apatow. Under Apatow's brilliant guidance, Rogen's wise-beyond-his-years wit and improv skills on "Freaks and Geeks" (NBC, 1999-2000) and his dual role as actor-writer on "Undeclared" (Fox, 2001-02) ultimately led him to shine in two Apatow hit films: first, as hilarious blue-collar sidekick to Steve Carell in "The 40-Year-Old Virgin" (2005), followed by the unlikely leading man in "Knocked Up" (2007). Using his considerable clout from these projects, he would co-write and executive produce hit comedies "Superbad" (2007) and "Pineapple Express" (2007) as well as directing and co-writing apocalyptic comedy "This Is The End" (2013) and controversial political comedy "The Interview" (2014) with his longtime creative partner Evan Goldberg. Throughout, Rogen maintained a parallel career as a charming leading man in films like the generation gap comedy "The Guilt Trip" (2012), "Neighbors" (2014), and "The Night Before" (2015). Besides attaining the enviable multi-hyphenate accomplishment of writer-actor-producer, Rogen's brand of "everydude" heralded a new breed of leading men - one which broke away from the chest-thumping, Alpha-male stereotypes popular throughout cinema history.
Photos
50/50, from left: Joseph Gordon-Levitt, Seth Rogen, 2011. ph: Chris Helcermanas-Benge/©Summit Entertainment
NEIGHBORS 2: SORORITY RISING, l-r: Chloe Grace Moretz, Seth Rogen, Kiersey Clemons, Beanie Feldstein, 2016. ph: Chuck Zlotnick/©Universal Pictures
NEIGHBORS, from left: Zac Efron, Seth Rogen, 2014. ph: Glen Wilson/©Universal Pictures
Seth Rogen as the voice of Mantis in "Kung Fu Panda"
MONSTERS VS. ALIENS, from left: B.O.B. (voice: Seth Rogen), Ginormica (voice: Reese Witherspoon), Dr. Cockroach, Ph.D (voice: Hugh Laurie), The Missing Link (voice: Will Arnett), 2009. ©Paramount
MONSTERS VS. ALIENS, from left: B.O.B. (voice: Seth Rogen), The Missing Link (voice: Will Arnett), Dr. Cockroach, Ph.D. (voice: Hugh Laurie), Ginormica (voice: Reese Witherspoon), 2009. ©Paramount
MONSTERS VS. ALIENS, Seth Rogen, voice of B.O.B., 2009. ©Paramount
SUPERBAD, writer Seth Rogen, Jonah Hill, Michael Cera, writer Evan Goldberg, on set, 2007. ©Columbia Pictures
KNOCKED UP, Seth Rogen, 2007. ©Universal Pictures
KNOCKED UP, Katherine Heigl, Seth Rogen, 2007. ©Universal Pictures
MONSTERS VS. ALIENS, B.O.B. (voice: Seth Rogen), 2009. ©Paramount
SUPERBAD, Bill Hader, Seth Rogen, 2007. ©Columbia Pictures
SUPERBAD, Bill Hader, Seth Rogen, 2007. ©Columbia Pictures
THE 40 YEAR OLD VIRGIN, Steve Carell, Paul Rudd, Romany Malco, Seth Rogen, 2005, (c) Universal
NEIGHBORS 2: SORORITY RISING, Seth Rogen, Ike Barinholtz, director Nicholas Stoller on set, 2016. ph: Chuck Zlotnick/©Universal Pictures
THE GUILT TRIP, from left: Seth Rogen, Barbra Streisand, 2012. ph: Sam Emerson/©Paramount Pictures
THE MINDY PROJECT, Mindy Kaling (L), Seth Rogen (R), 'The One That Got Away', Season 1, Ep. #16, 02/26/2013, ©FOX
NEIGHBORS 2: SORORITY RISING, from left: Zac Efron, Seth Rogen, Elise Vargas, Rose Byrne, 2016. ph: Justin Lubin/© Universal Pictures
LONG SHOT, FROM LEFT: CHARLIZE THERON, SETH ROGEN, 2019. PH: HECTOR ALVAREZ/© SUMMIT ENTERTAINMENT
Comedy Central Roasts, Seth Rogen, 'The Comedy Central Roast Of James Franco', Season 7, Ep. #1, ©CC
Filmography
Movies
Credit

No Score Yet

No Score Yet

Mufasa: The Lion King
Pumbaa (Voice)
-
2024

No Score Yet

No Score Yet

Kung Fu Panda 4
Mantis (Voice)
-
2024

No Score Yet

No Score Yet

Miller's Girl
Producer
-
2024

84%

85%

Dumb Money
Gabe Plotkin (Character)
$13.8M
2023

96%

90%

Teenage Mutant Ninja Turtles: Mutant Mayhem
Bebop (Voice),
Screenwriter,
Producer
$118.4M
2023

58%

71%

Cobweb
Producer
$440.0K
2023

91%

82%

Joy Ride
Producer
$12.8M
2023

59%

95%

The Super Mario Bros. Movie
Donkey Kong (Voice)
$574.9M
2023

No Score Yet

No Score Yet

Teenage Mutant Ninja Turtles: Mutant Mayhem 3D
Screenwriter,
Producer
-
2023

No Score Yet

No Score Yet

Being Mortal
Unknown (Character)
-
2023

92%

83%

The Fabelmans
Bennie Loewy (Character)
$17.3M
2022

80%

79%

Chip 'n' Dale: Rescue Rangers
Unknown (Character)
-
2022

85%

67%

Console Wars
Executive Producer
-
2020

72%

44%

An American Pickle
Herschel Greenbaum/Ben Greenbaum (Character),
Producer
-
2020

23%

38%

Zeroville
Viking Man (Character)
$8.0K
2019

80%

86%

Good Boys
Producer
$83.1M
2019

52%

88%

The Lion King
Pumbaa (Voice)
$543.6M
2019

82%

74%

Long Shot
Fred Flarsky (Character),
Producer
$30.3M
2019

46%

47%

Like Father
Jeff (Character)
-
2018

84%

51%

Blockers
Producer
$59.8M
2018

18%

47%

Game Over, Man!
Producer
-
2018

No Score Yet

16%

Seth Rogen's Hilarity for Charity
Unknown (Character)
-
2018

91%

85%

The Disaster Artist
Sandy Schklair (Character),
Producer
$21.1M
2017

82%

50%

Sausage Party
Frank/Sergeant Pepper (Voice),
Screenwriter,
Producer
$97.7M
2016

64%

44%

Neighbors 2: Sorority Rising
Mac Radner (Character),
Screenwriter,
Producer
$55.3M
2016

87%

79%

Kung Fu Panda 3
Mantis (Voice)
$143.5M
2016

No Score Yet

17%

F for Franco
Self
-
2015

33%

46%

Being Canadian
Self
-
2015

68%

61%

The Night Before
Isaac (Character),
Producer
$43.0M
2015

85%

73%

Steve Jobs
Steve Wozniak (Character)
$17.8M
2015

No Score Yet

63%

B.O.O.: Bureau of Otherworldly Operations
Unknown (Voice)
-
2015

51%

48%

The Interview
Aaron Rapaport (Character),
Director,
Producer
$6.1M
2014

73%

63%

Neighbors
Mac Radner (Character),
Producer
$150.1M
2014

83%

71%

This Is the End
Self,
Director,
Screenwriter,
Producer
$101.5M
2013

37%

39%

The Guilt Trip
Andy Brewster (Character),
Executive Producer
$37.1M
2012

57%

53%

For a Good Time, Call ...
Jerry (Character)
$1.2M
2012

16%

39%

The Watch
Screenwriter
$34.4M
2012

79%

58%

Take This Waltz
Lou (Character)
$1.2M
2011

93%

88%

50/50
Kyle (Character),
Producer
$35.0M
2011

81%

74%

Kung Fu Panda 2
Mantis (Voice)
-
2011

70%

62%

Paul
Paul (Voice)
$37.4M
2011

45%

43%

The Green Hornet
Britt Reid/Green Hornet (Character),
Screenwriter,
Executive Producer
$98.8M
2011

No Score Yet

57%

B.O.B.'s Big Break
B.O.B. (Voice)
-
2009

No Score Yet

23%

Night of the Living Carrots
B.O.B. (Voice)
-
2009

69%

48%

Funny People
Ira (Character),
Executive Producer
$51.8M
2009

51%

37%

Observe and Report
Ronnie Barnhardt (Character)
$24.0M
2009

73%

59%

Monsters vs. Aliens
B.O.B. (Voice)
$198.3M
2009

32%

57%

Fanboys
Admiral Seasholtz/Alien/Roach (Character)
$685.5K
2009

No Score Yet

63%

Monsters vs. Aliens
Unknown (Character)
-
2009

No Score Yet

52%

Monsters Vs. Aliens: Mutant Pumpkins From Outer Space
Unknown (Character)
-
2009

65%

66%

Zack and Miri Make a Porno
Zack (Character)
$31.5M
2008

68%

73%

Pineapple Express
Dale Denton (Character),
Screenwriter,
Executive Producer
$87.3M
2008

55%

69%

Step Brothers
Sporting Goods Manager (Character)
$100.5M
2008

87%

83%

Kung Fu Panda
Master Mantis (Voice)
$143.5M
2008

27%

44%

Drillbit Taylor
Screenwriter
$32.9M
2008

79%

73%

Dr. Seuss' Horton Hears a Who!
Morton (Voice)
$154.5M
2008

81%

63%

The Spiderwick Chronicles
Hogsqueal (Voice)
$71.1M
2008

88%

87%

Superbad
Officer Michaels (Character),
Writer,
Executive Producer
$121.5M
2007

89%

83%

Knocked Up
Ben Stone (Character),
Executive Producer
$148.7M
2007

42%

52%

Shrek the Third
Ship Captain (Voice)
$320.7M
2007

No Score Yet

No Score Yet

Jay and Seth Versus the Apocalypse
Seth (Character),
Screenwriter
-
2007

No Score Yet

No Score Yet

Shrek the Third 3D
Ship Captain (Voice)
-
2007

85%

84%

The 40-Year-Old Virgin
Cal (Character),
Co-Producer
$109.2M
2005
TV
Credit

99%

88%

Invincible
Allen the Alien (Voice),
Executive Producer

2021

2023

No Score Yet

38%

Jimmy Kimmel Live!
Guest

2008-2011

2013-2016

2018-2023

97%

77%

Gen V
Executive Producer

2023

93%

74%

Platonic
Will (Character),
Executive Producer

2023

No Score Yet

62%

The Kelly Clarkson Show
Guest

2021

2023

76%

67%

Paul T. Goldman
Executive Producer

2023

No Score Yet

47%

The Tonight Show Starring Jimmy Fallon
Guest

2014-2016

2018

2020-2022

93%

82%

The Boys
Executive Producer

2019-2020

2022

78%

67%

Pam & Tommy
Rand (Character),
Executive Producer

2022

97%

72%

The Boys Presents: Diabolical
Drug Dealer (Character),
Executive Producer,
Writer

2022

40%

4%

Santa Inc.
Santa Claus (Voice),
Executive Producer

2021

69%

78%

Black Monday
Executive Producer

2019-2021

No Score Yet

50%

The Late Show With Stephen Colbert
Guest

2016-2019

2021

No Score Yet

No Score Yet

House Hunters Comedians on Couches: Unfiltered
Guest

2021

69%

49%

Muppets Now
Guest

2020

No Score Yet

No Score Yet

Desus & Mero
Guest

2019-2020

No Score Yet

62%

Late Night With Seth Meyers
Guest

2015

2017-2020

91%

83%

Future Man
Executive Producer

2017

2019-2020

80%

65%

Breakfast, Lunch & Dinner
Guest

2019

87%

74%

Preacher
Executive Producer,
Director,
Producer

2017-2019

100%

92%

The Chef Show
Guest

2019

No Score Yet

87%

Comedians in Cars Getting Coffee
Guest

2019

No Score Yet

No Score Yet

The Graham Norton Show
Guest

2014

2016

2019

67%

44%

The Twilight Zone
Unknown (Guest Star)

2019

No Score Yet

20%

The Late Late Show With James Corden
Guest

2017

2019

No Score Yet

No Score Yet

The Shop
Guest

2019

No Score Yet

No Score Yet

Watch What Happens Live With Andy Cohen
Guest

2014-2016

2019

No Score Yet

No Score Yet

The Ellen DeGeneres Show
Guest

2011-2012

2014-2016

2018-2019

No Score Yet

81%

Drunk History
Victor Frankenstein (Guest Star)

2018-2019

No Score Yet

No Score Yet

Talking With Chris Hardwick
Guest

2018

No Score Yet

No Score Yet

Snoop Dogg Presents The Joker's Wild
Unknown (Guest Star),
Guest

2017-2018

83%

69%

The Joel McHale Show With Joel McHale
Unknown (Guest Star)

2018

No Score Yet

No Score Yet

Drop the Mic
Contestant

2018

No Score Yet

No Score Yet

Desus & Mero
Guest

2017-2018

No Score Yet

No Score Yet

Close Up With The Hollywood Reporter
Guest

2018

No Score Yet

No Score Yet

Hot Ones
Guest

2017

No Score Yet

No Score Yet

Funny or Die's Billy on the Street
Guest

2016

86%

No Score Yet

Martha & Snoop's Potluck Dinner Party
Guest

2016

56%

69%

Any Given Wednesday With Bill Simmons
Guest

2016

No Score Yet

No Score Yet

Jeff Ross Presents Roast Battle
Judge

2016

No Score Yet

No Score Yet

Variety Studio: Actors on Actors
Guest

2016

81%

82%

The League
Dirty Randy (Guest Star),
Writer

2011-2015

No Score Yet

88%

At Midnight With Chris Hardwick
Guest

2015

No Score Yet

81%

Last Week Tonight With John Oliver
Husband (Guest Star)

2015

No Score Yet

29%

The Daily Show
Guest

2015

99%

87%

Broad City
Male Stacy (Guest Star)

2015

No Score Yet

No Score Yet

The Colbert Report
Guest

2014

74%

88%

The Comeback
Himself (Guest Star)

2014

100%

90%

Late Show With David Letterman
Guest

2014

No Score Yet

No Score Yet

Real Time With Bill Maher
Guest

2014

No Score Yet

90%

The Eric Andre Show
Guest

2014

No Score Yet

No Score Yet

Ali G: Rezurection
Writer

2014

No Score Yet

No Score Yet

The Daily Show With Jon Stewart
Unknown (Character),
Guest

2008-2009

2011

2013-2014

No Score Yet

58%

Saturday Night Live
Unknown (Guest Star),
Guest,
Host

2007

2009

2011

2014

No Score Yet

No Score Yet

Conan
Guest

2010-2011

2013-2014

85%

76%

The Simpsons
Lyle McCarthy (Guest Voice),
Writer

2009

2014

No Score Yet

No Score Yet

The Comedy Central Roast
Host

2013

No Score Yet

No Score Yet

Late Night With Jimmy Fallon
Guest

2009

2013

75%

85%

Arrested Development
Young George Bluth (Guest Star)

2013

86%

83%

The Mindy Project
Unknown (Guest Star)

2013

No Score Yet

No Score Yet

Dr. Phil
Guest

2012

No Score Yet

No Score Yet

The Doctors
Guest

2012

No Score Yet

No Score Yet

Sesame Street
Unknown (Guest Star)

2011

No Score Yet

No Score Yet

Lopez Tonight
Guest

2011

No Score Yet

No Score Yet

MythBusters
Guest

2010

93%

82%

Undeclared
Ron Garner (Character)

2001-2002

2010

No Score Yet

65%

Family Guy
Himself (Guest Voice)

2009

No Score Yet

No Score Yet

Late Night With Conan O'Brien
Guest

2008

50%

No Score Yet

Help Me Help You
Unknown (Guest Star)

2006

No Score Yet

91%

American Dad!
Student (Guest Voice)

2006

100%

96%

Freaks and Geeks
Ken Miller (Character)

1999-2000

No Score Yet

No Score Yet

DreamWorks Spooky Stories
Unknown (Character)