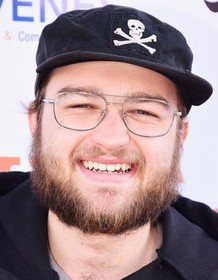 Angus T. Jones
Highest Rated: 90% Dinner With Friends (2001)
Lowest Rated: 17% George of the Jungle 2 (2003)
Birthday: Oct 8, 1993
Birthplace: Austin, Texas, USA
While Angus T. Jones may have been the "half" of a top-rated sitcom, what he lacked in stature at the time, he more than made up with his natural talent and comedic abilities. Before he hit his teen years, Jones possessed an acting resume that rivaled what many actors twice his age had accomplished. After appearing alongside seasoned stars such as David Arquette in the comedy "See Spot Run" (2001), Dennis Quaid in the drama "The Rookie" (2002), and Steve Martin in "Bringing Down the House" (2003), it was the unique family sitcom, "Two and a Half Men" (CBS, 2003-15) that made Jones one of the most recognized and highest paid child actors on television. Though a showcase for already established stars Charlie Sheen and Jon Cryer, "Two and a Half Men" presented Jones with the perfect star-making vehicle. He impressed critics with an innate ability to portray characters and express emotions well beyond his years. The success of the sitcom and Jones consistent scene-stealing established him as one of the most inspiring and successful young actors of his generation.
Photos
Two and a Half Men, Emily Osment (L), Angus T. Jones (R), 'Bazinga! That's From A TV Show', Season 10, Ep. #20, 04/04/2013, ©CBS
Two and a Half Men, Angus T. Jones, 09/22/2003, ©CBS
BRINGING DOWN THE HOUSE, Betty White, Angus T. Jones, 2003, (c) Walt Disney
THE ROOKIE, Angus T. Jones, 2002, (c) Walt Disney. .
Two and a Half Men, Ashton Kutcher (L), Holland Taylor (C), Angus T. Jones (R), 'Oh Look! Al-Qaeda!', Season 9, Ep. #24, 05/14/2012, ©CBS
BRINGING DOWN THE HOUSE, Kimberly J. Brown, Queen Latifah, Angus T. Jones, 2003, (c) Walt Disney
Two and a Half Men, from left: Ashton Kutcher, Angus T. Jones, Graham Patrick Martin, Conchata Ferrell, Courtney Thorne-Smith, Holland Taylor, 'The Straw In My Donut Hole', Season 9, Ep. #23, 05/07/2012, ©CBS
Two and a Half Men, Angus T. Jones (L), Graham Patrick Martin (R), 'Palmdale, Ech', Season 9, Ep. #19, 03/19/2012, ©CBS
BRINGING DOWN THE HOUSE, Jean Smart, Angus T. Jones, Kimberly J. Brown, 2003, (c) Walt Disney
Two and a Half Men, Ashton Kutcher (L), Holland Taylor (C), Angus T. Jones (R), 'Oh Look! Al-Qaeda!', Season 9, Ep. #24, 05/14/2012, ©CBS
Two and a Half Men, Ashton Kutcher (L), Holland Taylor (C), Angus T. Jones (R), 'Oh Look! Al-Qaeda!', Season 9, Ep. #24, 05/14/2012, ©CBS
Two and a Half Men, from left: Ashton Kutcher, Angus T. Jones, Graham Patrick Martin, Conchata Ferrell, Courtney Thorne-Smith, Holland Taylor, 'The Straw In My Donut Hole', Season 9, Ep. #23, 05/07/2012, ©CBS
Two and a Half Men, from left: Ashton Kutcher, Angus T. Jones, Graham Patrick Martin, Conchata Ferrell, Courtney Thorne-Smith, Holland Taylor, 'The Straw In My Donut Hole', Season 9, Ep. #23, 05/07/2012, ©CBS
Two and a Half Men, Angus T. Jones (L), Graham Patrick Martin (R), 'Palmdale, Ech', Season 9, Ep. #19, 03/19/2012, ©CBS
Two and a Half Men, Angus T. Jones (L), Ashton Kutcher (R), 'A Fishbowl Full of Glass Eyes', Season 9, Ep. #10, 11/21/2011, ©CBS
Two and a Half Men, Angus T. Jones (L), Ashton Kutcher (R), 'A Fishbowl Full of Glass Eyes', Season 9, Ep. #10, 11/21/2011, ©CBS
Two and a Half Men, Angus T. Jones (L), Graham Patrick Martin (R), 'Palmdale, Ech', Season 9, Ep. #19, 03/19/2012, ©CBS
Two and a Half Men, from left: Jon Cryer, Ashton Kutcher, Angus T. Jones, Conchata Ferrell, Courtney Thorne-Smith, Holland Taylor, 'I Changed My Mind About the Milk', Season 10, Ep. #1, 09/27/2012, ©CBS
Two and a Half Men, from left: Jon Cryer, Ashton Kutcher, Angus T. Jones, Graham Patrick Martin, Conchata Ferrell, Courtney Thorne-Smith, Sophie Winkleman, Holland Taylor, 'The Straw In My Donut Hole', Season 9, Ep. #23, 05/07/2012, ©CBS
BRINGING DOWN THE HOUSE, Angus T. Jones, 2003, (c) Walt Disney