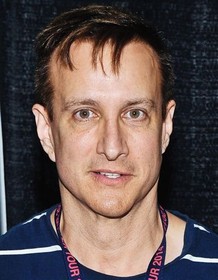 Bronson Pinchot
Highest Rated: 93% True Romance (1993)
Lowest Rated: Not Available
Birthday: May 20, 1959
Birthplace: New York, New York, USA
Comedic actor Bronson Pinchot first turned heads as a snobby art gallery worker of uncertain nationality and dubious sexual orientation opposite Eddie Murphy in "Beverly Hills Cop" (1984), before becoming a television staple as the lovable Balki on "Perfect Strangers" (ABC, 1986-1993). Prior to stardom, Pinchot's work in an off-Broadway show brought him to the attention of a casting agent on the Tom Cruise hit film "Risky Business" (1983). He followed his feature debut with a small, but scene-stealing turn in "Beverly Hills Cop" as the snarky, oddly-accented Serge. He developed a similar character - minus the attitude - with Balki, the bumpkin cousin from the fictional Mediterranean island of Mypos on the long-running sitcom "Perfect Strangers," alongside co-star Mark Linn-Baker. In the years that followed the end of his hit show, Pinchot made several unsuccessful attempts to land a new series, sporadically punctuated with supporting appearances in films such as "True Romance" (1993). Later, he would reemerge on the 2005 season of the reality show "The Surreal Life" (The WB, 2002-04/VH1, 2004-06), in which he showed himself to be far-removed from the sexually innocent Balki audiences had long associated him with. Nonetheless, Pinchot's earlier body of comedic work earned him enough good will with fans that he continued to be a welcome presence in his many TV, film, and stage appearances.
Photos
BLAME IT ON THE BELLBOY, back row, l-r: Bryan Brown, Richard Griffiths, Andreas Katsulas, Alex Norton, front, l-r: Bronson Pinchot, Penelope Wilton, Alison Steadman, Dudley Moore, Jim Carter, seated: Patsy Kensit, 1992. ©Buena Vista Pictures
TRUE ROMANCE, Bronson Pinchot, 1993, (c) Warner Brothers
Law & Order: Special Victims Unit, Bronson Pinchot, 'Alternate', Season 9, Ep. #1, 09/25/2007, ©NBC
SECOND SIGHT, John Larroquette, Bronson Pinchot, Stuart Pankin, 1989. ©Warner Bros
IT'S MY PARTY, (back) Joel Polis, George Segal, Gregory Harrison, Bronson Pinchot, Dimitra Arliss, (center) Marlee Matlin, Eric Roberts, Lee Grant, (front) Olivia Newton-John, Margaret Cho, Paul Regina, 1996, (c) United Artists
BEVERLY HILLS COP III, Bronson Pinchot, 1994, (c)Paramount Pictures
TRUE ROMANCE, Val Kilmer, Bronson Pinchot, Christian Slater, Christopher Penn, Patricia Arquette, Dennis Hopper, 1993.
SECOND SIGHT, John Larroquette, Stuart Pankin, Bronson Pinchot, 1989, (c)Warner Bros
SECOND SIGHT, Stuart Pankin, Bronson Pinchot, John Larroquette, Bess Armstrong, 1989, (c)Warner Bros
IT'S MY PARTY, (back) Joel Polis, George Segal, Gregory Harrison, Bronson Pinchot, Dimitra Arliss, (center) Marlee Matlin, Eric Roberts, Lee Grant, (front) Olivia Newton-John, Margaret Cho, Paul Regina, 1996, (c) United Artists
RISKY BUSINESS, (ctr) Bronson Pinchot, 1983
TRUE ROMANCE, Bronson Pinchot, Christian Slater, 1993
BEWARE! THE BLOB, Burgess Meredith, 1972
RISKY BUSINESS, Tom Cruise & Bronson Pinchot, 1983
FIRST WIVES CLUB, Bronson Pinchot, Sarah Jessica Parker, Maggie Smith, 1996, (c)Paramount
IT'S MY PARTY, Paul Regina, George Segal, Bronson Pinchot, Dimitra Arliss, Olivia Newton-John, Margaret Cho, Joel Polis, 1996, (c)United Artists
RISKY BUSINESS, Curtis Armstrong, Tom Cruise, Bronson Pinchot, 1983 © WarnerBrothers/
FIRST WIVES CLUB, Bronson Pinchot, 1996, (c)Paramount
FIRST WIVES CLUB, Diane Keaton, Goldie Hawn, Bronson Pinchot, Bette Midler, 1996
BEVERLY HILLS COP III, Bronson Pinchot, Eddie Murphy, 1994, (c)Paramount Pictures