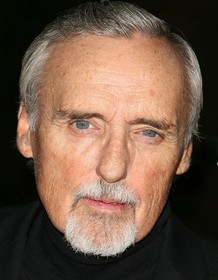 Dennis Hopper
Highest Rated: 100% The Sons of Katie Elder (1965)
Lowest Rated: Not Available
Birthday: May 17, 1936
Birthplace: Dodge City, Kansas, USA
Once relishing in his image as a drug-addled rebel of the 1960s counterculture, Dennis Hopper overcame years of substance abuse and a string of mediocre films to cement his reputation as one of Hollywood's most prolific and unpredictable actors. Following his screen debut alongside the original Hollywood bad boy, mentor James Dean, in "Rebel Without a Cause" (1955), Hopper nearly shot his career in the foot because of his penchant for being difficult on set. When he returned to Los Angeles after a stint making television in New York, Hopper scored a critical and commercial success as the director, writer and one of the stars of "Easy Rider" (1969), perhaps one of the most culturally impactful film ever made. But his subsequent descent into self-indulgence, drugs and alcohol derailed his career yet again and served as a lively cautionary tale about the excesses of 1970s Hollywood. Finally reaching sobriety in the early 1980s, Hopper re-emerged as a sober, hard-working, middle-aged character actor who made a stunning comeback with standout performances in "Blue Velvet" (1986), "Rivers Edge" (1987) and "True Romance" (1993), all of which transformed the once-reckless rebel into a well-respected veteran of the silver screen.
Photos
THE AMERICAN FRIEND, Dennis Hopper, Bruno Ganz, 1977
CHATTAHOOCHEE, Dennis Hopper, Gary Oldman, 1989, (c) Hemdale
KID BLUE, Dennis Hopper, 1973, TM and Copyright © 20th Century Fox Film Corp. All rights reserved.
THE SONS OF KATIE ELDER, John Wayne, Dennis Hopper, 1965.
OUT OF THE BLUE, Dennis Hopper, 1980, (c) Discovery Films
EASY RIDER, Dennis Hopper, 1969
KEY WITNESS, Dennis Hopper taking time out from a fight scene to sign autograph for fan, 1960
FROM HELL TO TEXAS, Dennis Hopper, 1958, TM & copyright © 20th Century Fox Film Corp.
MAD DOG MORGAN, Dennis Hopper, 1976
TRUE ROMANCE, Val Kilmer, Bronson Pinchot, Christian Slater, Christopher Penn, Patricia Arquette, Dennis Hopper, 1993.
THE OSTERMAN WEEKEND, Dennis Hopper, 1983, TM and Copyright (c)20th Century Fox Film Corp. All rights reserved.
COOL HAND LUKE, Robert Drivas, Paul Newman, Dennis Hopper, 1967
KEY WITNESS, Harry Lauter, Dennis Hopper, Corey Allen, 1960
OUT OF THE BLUE, Dennis Hopper, Linda Manz, Sharon Farrell, 1980
RIVER'S EDGE, Dennis Hopper, 1986, (c) Island Pictures
THE LAST MOVIE, director/star Dennis Hopper, on set, 1971
EASY RIDER, Luana Anders, Peter Fonda, Dennis Hopper, 1969
APOCALYPSE NOW, Dennis Hopper, Martin Sheen, Frederic Forrest, 1979. © United Artists
EASY RIDER, Peter Fonda, Jack Nicholson, Dennis Hopper, 1969
EASY RIDER, Dennis Hopper, 1969