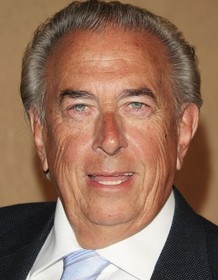 Frank Mancuso Jr.
Highest Rated: 79% Internal Affairs (1990)
Lowest Rated: 2% Crossover (2006)
Birthday: Oct 9, 1958
Birthplace: Buffalo, New York, USA
Frank Mancuso Jr. is a film and television producer, also the son of Frank Mancuso Sr., the former chairman and CEO of Paramount Pictures. Mancuso Jr. has claimed to have gained his producing experience from the ground up, never interested in taking advantage of his father's connections. He began his career in 1980, serving as a location assistant for the epic John Travolta drama "Urban Cowboy," followed by a stint producing several movies from the "Friday the 13th" horror franchise over the course of the '80s, which culminated in his capacity as co-creator and executive producer for the three-season television version of the horror classic. Over the late '80s and into 1990, Mancuso also executive-produced for the action-horror TV series "War of the Worlds." Throughout the '90s, his producing projects varied greatly, from the 1991 Kevin Bacon-Elizabeth Perkins romantic comedy, "He Said, She Said," to the 1999 horror mystery "Stigmata," as well as the first two "Species" sci-fi thriller films; clearly, Mancuso's choices ran the gamut. When he made still more "Species" sequels--this time straight-to-video--mixed in with dramas, a horror film, and an action sport film over the '00s, at least he was continuing his prior pattern of not being consistent. But in 2011, Mancuso turned a content corner by connecting with well-budgeted auteur director Gus Van Sant, joining his heavyweight production team--including Brian Grazer and Ron Howard--to serve as an executive producer for the drama "Restless," starring young Aussie actress Mia Wasikowska.
Photos
I KNOW WHO KILLED ME, producer Frank Mancuso Jr., director Chris Sivertson, on set, 2007. ©TriStar Pictures
SPECIES II, Justin Lazard, director Peter Medak, producer Frank Mancuso Jr., on set, 1998. ©MGM