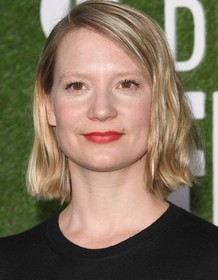 Mia Wasikowska
Highest Rated: 92% The Kids Are All Right (2010)
Lowest Rated: 19% Amelia (2009)
Birthday: Oct 14, 1989
Birthplace: Canberra, Australian Capital Territory, Australia
Mia Wasikowska was an Australian actress who played the eponymous role in Tim Burton's colorful adventure-fantasy "Alice in Wonderland" (2010), in addition to roles in the critically-acclaimed dramas "That Evening Sun" (2009) and "The Kids Are All Right" (2010). Born and raised in the Australian capital of Canberra, Wasikowska grew up wanting to become a professional ballerina. She started taking lessons at the age of 9, and by 13 was spending upwards of 35 hours a week, in addition to her school work, training. Although her passion for ballet was strong, by the age of 14 Wasikowska started becoming disillusioned with the cloistered world of ballet, and its extreme focus on physical perfection. She eventually quit dancing altogether, although her love of ballet remained strong. After permanently shelving her dance dream, Wasikowska began developing a new passion for acting. She had always loved European and Australian cinema, and started thinking about delving into an acting career. There was just one problem: she didn't have any experience. Determined to at least get a meeting, Wasikowska called up a dozen Australian talent agents at random. Through sheer persistence, she eventually got one of them to accept her call, and from there, set up a meeting. Before long, Wasikowska was going out on auditions and within a short time had nabbed a recurring part on the Australian series "All Saints" (Seven Network, 1998-2009). From there she nabbed parts in films like "Suburban Mayhem" (2006), "September" (2007), and "Rogue" (2008). Then in 2008 Wasikowska landed a recurring role on the HBO drama "In Treatment" (HBO, 2008-2010). Wasikowska nabbed the role by sending in a taped audition, which wowed the show's producers. She appeared as Sophie, an emotionally distressed gymnast, on the first season of the series in 2008. If her role on "In Treatment" proved Wasikowska had the acting chops to play serious parts, her roles in the acclaimed dramas "That Evening Sun" and "The Kids Are All Right" only confirmed that belief. With her still young acting career on the rise, Wasikowska landed her breakout role in 2010 when she was cast as Alice in Tim Burton's "Alice in Wonderland." The film, which also starred Johnny Depp, was a worldwide hit at the box office, thus raising Wasikowska's profile from working actor to global star seemingly overnight. She would go on to reprise her role as Alice in 2016's "Alice Through the Looking Glass." In addition to playing Alice on the big screen, Wasikowska continued racking up critical praise for her impressive work in a number of acclaimed films, including "Maps to the Stars" (2014), "Madame Bovary" (2014), and "Damsel" (2018). In 2019 Wasikowska had starred in two films: "Judy & Punch" (2019) and "Blackbird" (2019). The latter film, which also starred Susan Sarandon and Kate Winslet, was a remake of the Danish film "Silent Heart" (2014).
Photos
THE KIDS ARE ALL RIGHT, Mia Wasikowska, 2010, Ph: Suzanne Tenner, © Focus Features
The Late Show With Stephen Colbert, Mia Wasikowska, 09/08/2015, ©CBS
THE KIDS ARE ALL RIGHT, from left: Annette Bening, Josh Hutcherson, Julianne Moore, Mia Wasikowska, 2010. ph: Suzanne Tenner/©Focus Features
TRACKS, Mia Wasikowska, 2013. ©Weinstein Company
THE KIDS ARE ALL RIGHT, from left: Josh Hutcherson, Mia Wasikowska, Mark Ruffalo, 2010. ph: Suzanne Tenner/©Focus Features
JANE EYRE, from left: Jamie Bell, Mia Wasikowska, 2011. ph: Laurie Sparham/©Focus Features
Mia Wasikowska and Jaimie Bell in "Defiance"
DEFIANCE, from left: Mia Wasikowska, Jamie Bell, 2008. ©Paramount Vantage
STOKER, Mia Wasikowska (left), director PARK Chan-wook (front right), on set, 2013. ph: Macall Polay/TM & copyright ©Fox Searchlight. All rights reserved
THE KIDS ARE ALL RIGHT, seated from left: Mia Wasikowska, Julianne Moore, cinematographer Igor Jadue-Lillo (at camera) on set, 2010, Ph: Suzanne Tenner, © Focus Features
MAPS TO THE STARS, Mia Wasikowska, 2014. ph: Daniel C. McFadden/©eOne Entertainment
ALICE THROUGH THE LOOKING GLASS, Mia Wasikowska as Alice, 2016. Ph: Peter Mountain/© Walt Disney Studios Motion Pictures
ALICE THROUGH THE LOOKING GLASS, from left: Anne Hathaway as White Queen, Mia Wasikowska as Alice, 2016. ph: Peter Mountain/© Walt Disney Studios Motion Pictures
ALBERT NOBBS, from left: Mia Wasikowska, Glenn Close, 2011. ph: Patrick Redmond/©Roadside Attractions
THE KIDS ARE ALL RIGHT, Mia Wasikowska, 2010, Ph: Suzanne Tenner, © Focus Features
TRACKS, Mia Wasikowska, 2013. ©Weinstein Company
TRACKS, Mia Wasikowska, 2013. ©Weinstein Company
STOKER, Mia Wasikowska (on bed), back: cinematographer CHUNG Chung-hoon, on set, 2013. ph: Macall Polay/TM & copyright ©Fox Searchlight. All rights reserved
ALICE THROUGH THE LOOKING GLASS, Mia Wasikowska as Alice, 2016. ph: Peter Mountain/© Walt Disney Studios Motion Pictures
ALICE THROUGH THE LOOKING GLASS, Mia Wasikowska as Alice, 2016. ph: Peter Mountain/© Walt Disney Studios Motion Pictures