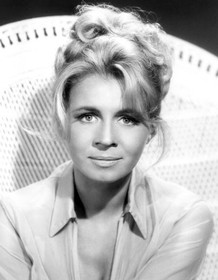 Salome Jens
Highest Rated: 91% Coming Out Under Fire (1994)
Lowest Rated: 6% Norm of the North (2016)
Birthday: May 8, 1935
Birthplace: Milwaukee, Wisconsin, USA
Trekkies will immediately recognize Salome Jens as "Star Trek: Deep Space Nine"'s female shapeshifter (or as the humanoid progenitor from "Star Trek: The Next Generation"), but Jens was a renowned actress of the stage and screen long before she ever set foot on a federation starship. Genre films and bizarre, imaginative concepts were always close to her heart, however, and she made her Hollywood debut in 1958 as a time traveler in the schlocky "Terror from the Year 5000." In '66, she caught eyes opposite Rock Hudson in the science fiction neo-noir "Seconds" and predated her TV appearances on "Star Trek" with stints on series like "Tales from the Crypt" and "The Adventures of Superboy," where she played Martha Kent, mother of the hero's alter ego. Despite her proclivity for the fantastic, Jens is equally regarded for her more dramatic efforts, especially her turn as a drug-addled stripper in "Me, Natalie," a 1969 film notable for also featuring the big-screen debut of Academy Award-winner Al Pacino. Jens continued to explore her passion for performing during her later years, lending her voice to the "Star Trek" computer game "Hidden Evil" in 1999 and the family farce "Cats & Dogs" in 2001. Jens was briefly married to actor Ralph Meeker in 1964 before divorcing him in 1966.
Photos
THE FOOL KILLER, Dana Elcar, Salome Jens, Edward Albert, 1965
SECONDS, Rock Hudson, Salome Jens, 1966
SECONDS, Salome Jens, 1966
ANGEL BABY, Salome Jens, 1961
ME, NATALIE, 1969, Salome Jens
ME, NATALIE, Salome Jens, Patty Duke, 1969
SECONDS, Salome Jens, Rock Hudson, 1966
ANGEL BABY, Salome Jens, Burt Reynolds, 1961
ANGEL BABY, Salome Jens, 1961
ANGEL BABY, Salome Jens, Burt Reynolds, 1961.
ANGEL BABY, Burt Reynolds, Salome Jens, 1961.
I'M LOSING YOU, Salome Jens, Frank Langella, 1998