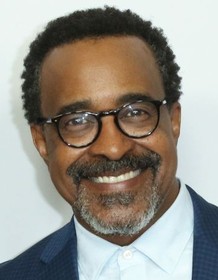 Tim Meadows
Highest Rated: 92% For Madmen Only (2020)
Lowest Rated: Not Available
Birthday: Feb 5, 1961
Birthplace: Highland Park, Michigan, USA
A veteran of Chicago's Second City comedy troupe, Michigan native Tim Meadows joined the cast of NBC's "Saturday Night Live" as a featured player in February 1991, earned regular star status in September of 1993 and stayed with the series through the beginnings of its 2000-2001 season, standing alongside such notables as the late Phil Hartman as one of the longest-running and most versatile regulars on the sketch comedy series. While on "SNL," Meadows impressed with humorous and accurate impersonations of celebrities including Michael Jackson, Joey Buttafuoco, Ike Turner, O.J. Simpson and General Colin Powell as well as memorable original characters Lionel Osborne, host of the mock public interest TV program "Perspectives," "Quiet Storm" radio DJ Chris 'Champagne' Garnet and his most popular portrayal, The Ladies' Man Leon Phelps, the Courvoisier-drinking romantic advisor with an odd take on relationships and an even odder way of speaking. Meadows had a magnetic presence and turned in dependably solid performances on the demanding series, losing his professional poker face only occasionally to let out a laugh at times when dealing with the amplified antics of fellow Second City alumnus Chris Farley, whose discovery by Lorne Michaels paved the way for Meadows' place on the show. Several years after appearing in a string of films based on "Saturday Night Live" sketches including "Coneheads" and "Wayne's World 2" (both 1993), Meadows was offered his own chance at features, and the 2000 release "The Ladies' Man" gave the eponymous hero Leon Phelps the opportunity to bring his inane romantic advice to the big screen. That same year he left "SNL" to join NBC's primetime line-up as a regular cast member on "The Michael Richards Show." Here Meadows played a private detective trying to overcome his Peeping Tom tendencies, one of the workmates of P.I. Vic Nardozza (Richards). Meadows' additional credits included a 1996 stint at the Kennedy Center as a featured performer in the Second City production "Truth, Justice, and the American Way." He also lent his voice to the animated holiday special "Olive, the Other Reindeer" (Fox, 1999). Supporting roles in the Tina Fey-penned "Mean Girls" (2004) and the biopic parody "Walk Hard: The Dewey Cox Story" (2007) were followed by a "Saturday Night Live" reunion of sorts on Adam Sandler's hit "Grown-Ups" (2010) and its 2013 sequel. Meadows next appeared in Amy Schumer's romantic comedy "Trainwreck" (2015) and The Lonely Island's "Popstar: Never Stop Never Stopping" (2016). During this period, Meadows also tackled a recurring role as Mike the Mailman on animated hit "Bob's Burgers" (Fox 2012- ) and appeared in the Casey Wilson comedy "Marry Me" (NBC 2014-15). He next co-starred in the partially-animated sitcom "Son of Zorn" (Fox 2016- ).
Photos
Tim Meadows at arrivals for Disney ABC Television Hosts: TCA Winter Press Tour 2019, The Langham Huntington, Pasadena, Pasadena, CA February 5, 2019. Photo By: Priscilla Grant/Everett Collection
WALK HARD: THE DEWEY COX STORY, back, left to right: John C. Reilly, Matt Besser, Tim Meadows, Chris Parnell, 2007. ©Columbia Pictures
WALK HARD: THE DEWEY COX STORY, from left: John C. Reilly, Matt Besser, Tim Meadows, Chris Parnell, 2007. ©Columbia Pictures
WALK HARD: THE DEWEY COX STORY, back, left to right: Chris Parnell, Matt Besser, Tim Meadows, front: John C. Reilly, 2007. ©Columbia Pictures
The Colbert Report, Tim Meadows, 'Season 3', 01/08/2007, ©CCCOM
THE LADIES MAN, Tim Meadows, Will Ferrell, 2000. (c)Paramount..
THE LADIES MAN, Tim Meadows, 2000, © Paramount
THE LADIES MAN, Tim Meadows, Producer Lorne Michaels, on set, 2000, ©Paramount
WALK HARD: THE DEWEY COX STORY, Chris Parnell, Tim Meadows, John C. Reilly, Matt Besser, 2007. ©Columbia Pictures
WALK HARD: THE DEWEY COX STORY, Tim Meadows, John C. Reilly, Matt Besser, Chris Parnell, 2007. ©Columbia Pictures
MEAN GIRLS, Tim Meadows, Tina Fey, 2004, (c) Paramount
WALK HARD: THE DEWEY COX STORY, front: John C. Reilly, Chris Parnell, Tim Meadows, 2007. ©Columbia Pictures
30 Rock, Tim Meadows (L), Jack McBrayer (R), 'Florida', Season 7, Ep. #10, 01/17/2013, ©NBC
30 Rock, Tim Meadows (L), Jack McBrayer (R), 'Florida', Season 7, Ep. #10, 01/17/2013, ©NBC
The Goldbergs, Tim Meadows, 'A Kick-Ass Risky Business Party', Season 3, Ep. #1, 09/23/2015, ©ABC
The Goldbergs, Tim Meadows, 'A Kick-Ass Risky Business Party', Season 3, Ep. #1, 09/23/2015, ©ABC
Marry Me, Tim Meadows (L), Casey Wilson (R), 'Pilot', Season 1, Ep. #1, 10/14/2014, ©NBC
The Spoils Before Dying, Tim Meadows (L), Michael K. Williams (R), 'Episode 102', Season 1, Ep. #2, ©IFC
Marry Me, Tim Meadows (L), Dan Bucatinsky (R), 'Pilot', Season 1, Ep. #1, 10/14/2014, ©NBC
30 Rock, Tim Meadows, 'Florida', Season 7, Ep. #10, 01/17/2013, ©NBC