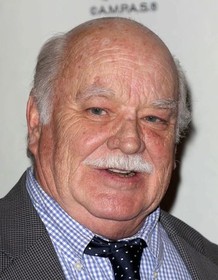 Brian Doyle-Murray
Highest Rated: 94% National Lampoon's Vacation (1983)
Lowest Rated: Not Available
Birthday: Oct 31, 1945
Birthplace: Chicago, Illinois, USA
The older brother of superstar Bill Murray, Brian Doyle-Murray worked regularly for decades as a dependable comic performer, writer, and voice artist in movies and on television. A veteran of the Chicago Second City company and the "National Lampoon Radio Hour," Doyle-Murray honed his writing talents on SCTV (syndicated/NBC/Cinemax, 1976-1984) and the late night juggernaut "Saturday Night Live" (NBC, 1975- ). His excellent timing and gruff voice made him an ideal comic antagonist and he almost invariably played characters that ran the gamut from brusque to downright obnoxious in a series of hit comedies, including "Caddyshack" (1980), which he co-wrote, "National Lampoon's Vacation" (1983), "Scrooged" (1988), "Ghostbusters II" (1989), "Groundhog Day" (1993), and "Multiplicity" (1996). He was also frequently tapped for guest roles on a wide variety of television sitcoms and was a regular on others, like Chris Elliott's cult favorite "Get a Life" (Fox, 1990-92). Children also came to know Doyle-Murray from his many voice artist stints on animated programs, particularly his memorable interpretation of the ghostly Flying Dutchman on the long-running "SpongeBob SquarePants" (Nickelodeon, 1999- ). Doyle-Murray regularly distinguished himself with a series of second banana roles that benefitted greatly from his professionalism and the terrific comic training he had honed on the Second City stage.
Photos
CADDYSHACK, Chevy Chase, Rodney Dangerfield, Dan Resin, Ted Knight, Brian Doyle-Murray, 1980. (c)Orion Pictures..
GROUNDHOG DAY, Bill Murray, Brian Doyle-Murray, 1993. (c) Columbia
MODERN PROBLEMS, Brian Doyle-Murray, Mary Kay Place, Chevy Chase, Patti D'Arbanville, Nell Carter, Dabney Coleman, 1981, TM & Copyright (c) 20th Century Fox Film Corp.
JURY DUTY, Brian Doyle-Murray, Alex Datcher, Pauly Shore, Ernie Lee Banks, 1995, (c) TriStar
NATIONAL LAMPOON'S CHRISTMAS VACATION, Randy Quaid, Brian Doyle-Murray, 1989
CABIN BOY, Mike Starr, James Gammon, Brion James, Brian Doyle-Murray, 1994
STUART LITTLE, (rear l-r): Harold Gould, Patrick O'Brien, Brian Doyle-Murray, Allyce Beasley, (front l-r): Jonathan Lipnicki, Estelle Getty, Connie Ray, Jeffrey Jones, 1999, (c)Columbia Pictures
MULTIPLICITY, Brian Doyle-Murray, 1996, ©Columbia Pictures
CLUB PARADISE, Front row: Eugene Levy, Rick Moranis, Jimmy Cliff, Joe Flaherty, Robin williams (center left), Twiggy, (center), Adolph Caesar, Brian Doyle- Murray, Joanna Cassidy, Peter O'Toole, 1986. ©Warner Brothers/courtesy Everett
MULTIPLICITY, from left: Brian Doyle-Murray, Michael Keaton, 1996, ©Columbia Pictures
17 AGAIN, (aka SEVENTEEN AGAIN), Brian Doyle-Murray, 2009. ©New Line
Sullivan & Son, Steve Byrne (L), Brian Doyle-Murray (R), 'Hank Hallucinates', Season 2, Ep. #6, 07/25/2013, ©TBS
Sullivan & Son, Steve Byrne (L), Pat Sajak (C), Brian Doyle-Murray (R), 'Hank Hallucinates', Season 2, Ep. #6, 07/25/2013, ©TBS
Sullivan & Son, from left: Steve Byrne, Valerie Azlynn, Brian Doyle-Murray, Pat Sajak, 'Hank Hallucinates', Season 2, Ep. #6, 07/25/2013, ©TBS
Sullivan & Son, Brian Doyle-Murray (L), Pat Sajak (R), 'Hank Hallucinates', Season 2, Ep. #6, 07/25/2013, ©TBS
Sullivan & Son, from left: Roy Wood Jr., Owen Benjamin, Valerie Azlynn, Brian Doyle-Murray, Ahmed Ahmed, 'One More Time', Season 2, Ep. #1, 06/13/2013, ©TBS
Sullivan & Son, from left: Roy Wood Jr., Dan Lauria, Valerie Azlynn, Jodi Long, Brian Doyle-Murray, Steve Byrne, 'Over the Edge', Season 2, Ep. #9, 08/15/2013, ©TBS
Sullivan & Son, Brian Doyle-Murray, 'Ladies Night', Season 2, Ep. #3, 06/27/2013, ©TBS
Sullivan & Son, from left: Roy Wood Jr., Owen Benjamin, Valerie Azlynn, Brian Doyle-Murray, Ahmed Ahmed, 'One More Time', Season 2, Ep. #1, 06/13/2013, ©TBS
17 AGAIN, (aka SEVENTEEN AGAIN), Brian Doyle-Murray, 2009. ©New Line